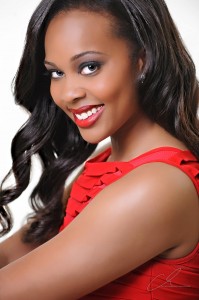 Sultry, soulful, and sincere are what audiences have said of up and coming vocalist Ashleigh Smith. From the small town of LaGrange, this Georgia Peach is new to Texas soil; however, she is no stranger to the stage.
A recent graduate from the University of North Texas with her Bachelor's of Jazz Studies, under the instruction of Rosana Eckert, Dr. Timothy Brent, and Jennifer Barnes, music has always been Ashleigh's passion and first love. She has performed for thousands of people across the state of Georgia and has begun to do the same in Texas, singing at private parties and other venues around North Texas, including the large Denton Jazz and Arts Festival for the past three years. She is making her mark on the DFW (Dallas Fort Worth) area as the lead female vocalist with many of Dallas's top bands such as the TOP Band, Professor D, Domino Effect, Downtown Fever, & The Knice 2 Know Band (K2K), The Krewe of Swing.
She has been awarded the prestigious Downbeat Student Award for Best Undergraduate Jazz Vocal Performance in 2011 and the Outstanding Undergraduate Vocal Jazz Soloist in 2012. She is a member of the world renown Jazz Singers 1 with whom she has also won a 2012 Downbeat Award. Her vocal talent has also provided her the opportunity to travel and perform as a soloist and chorister in Washington D.C, Northern Ireland, Orlando, Florida, and New York City, and most recently she has shared the stage with the world renown vocal jazz group The Manhattan Transfer and the phenomenal Jon Hendricks during the Kennedy Center's "Swing, Swing, Swing" concert series. She was awarded the opportunity to do background studio work for Grammy award winning artist Chrisette Michele and is a featured vocalist on the University of North Texas's Two O'clock Lab Bands newest release entitled "Two Twos". Most recently she was chosen, out of 900 applicants, as a Top 5 finalist in the 1st annual "Sarah Vaughn International Jazz Vocal Competition" where she performed in front of jazz greats such as Dee Dee Bridgewater, Jon Hendricks, as well as Larry Rosen, Michael Bourne, and Melissa Walker. She was 1st runner-up in the competition.
Ashleigh's style is able to fit almost any genre with ease and finesse and while she takes perfecting her craft seriously she fills every performance with the same fun she fills her life with. With the ability, style and grace to move from jazz, r&b, neo-soul, and funk, Ashleigh's, charisma, sincerity, & energy make her a starlet worth watching.