Homegrown Music Gets Second Helping
Following up last year's successful release of its first ever student-produced CD Hall Music Productions of Southlake unveiled their second student-produced CD, Homegrown Volume 2. Having sold over 1,000 copies of their first volume both locally and on iTunes studio owner David Hall once again showcases his many talented students who range in age from six to adult.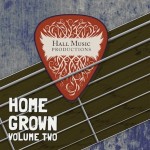 With the release of Homegrown Volume 2 the students are back with even more variety on 18 tracks of inspired entertainment. As the CD plays, listeners will hear songs from many genres of music, ranging from pop to country, solos to bands, movie soundtracks to dubstep, female and-male vocals. The creativity behind each track is the work of the students, nurtured and enhanced by their instructors for an added touch.
With countless hours of practice and lessons under their belt, paired with the creative outlet of Hall Music Productions, they are thrilled to be a part of this exciting new CD release. Homegrown Volume 2 is available for $15 at hallmusicproductions.com, local Southlake businesses and on iTunes. All of the proceeds from the sales of this CD will be used to produce future student recordings.